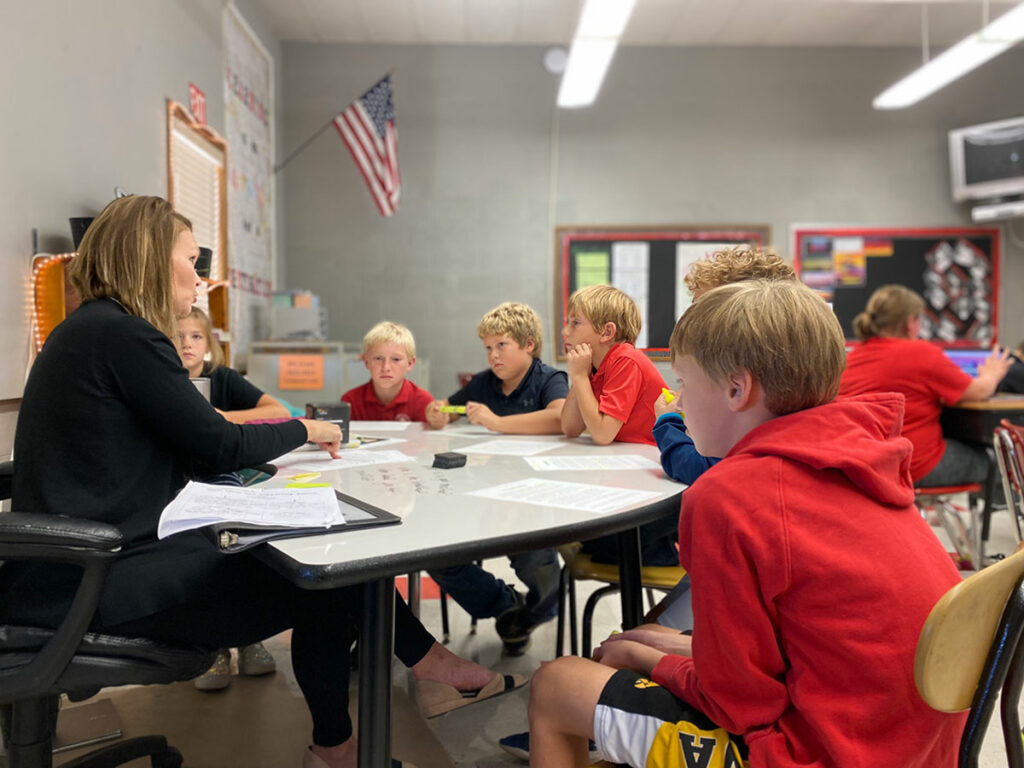 As parents, we know our kids are unique with different needs and interests. We want a school that understands that there is no "one size fits all" approach to our children's learning. Enter WIN time. What I Need or WIN time is a flexible period of time incorporated into the daily school schedule where extra help or enrichment opportunities are available for students. WIN time fosters student autonomy and goal setting, creating a learner-centered environment where students proactively address challenges with teacher support or collaborative learning. In the Diocese of Des Moines, eight schools, including Holy Trinity, Sacred Heart, St. Francis of Assisi, Shelby County Catholic School, St. Luke the Evangelist, St. Joseph, St. Pius X, and Christ the King incorporate WIN time to enhance student learning.
This results-oriented, data-driven approach to learning was implemented with input from faculty at each participating school, making WIN time a rewarding experience for all. Moreover, while individual teachers retain ownership over their classroom's WIN time, a partnership among faculty is encouraged to ensure every student receives academic support based on individual needs.
"I am blessed to have supportive coworkers that were all onboard with the idea of WIN time," shared Elizabeth Bandstra, teacher at St. Luke the Evangelist in Ankeny. "St Luke's has the mindset that every child is our student no matter what classroom they are in. So we made it a priority to create a WIN time."
The overall structure of WIN time varies by school, but most schools offer WIN time three to four times weekly for about 20-30 minutes. Unlike a traditional study hall, WIN time provides student-driven and teacher-driven learning. For example, in a traditional study hall, a student could seek out instructional support on absolute value from his math teacher. With WIN time, that math teacher might look at recent quiz results and notice a trend of students struggling with the concept of absolute value. Then that teacher could pull that group of students together and re-teach the concept to ensure the students understand.
"As a teacher, there are so many things to focus on in a day that setting aside time for proper interventions for multiple groups of kids isn't feasible," said Becky Beneke, teacher and assistant administrator at Christ the King Catholic School. "The WIN time structure allows multiple teachers to collaborate and gives them the block of time to do it with fidelity and effectiveness."
Benefits of WIN time:
Provides additional time to complete assignments with school resources available
Reduces the amount of "homework" sent home
Helps students develop study habits for academic success
Empowers students to seek out help from a teacher
Encourages collaboration among classmates
Allows faculty to re-teach concepts to students in need of additional support
Inspires learning by engaging students in enrichment activities and special interests
"Students really enjoy WIN time. They love having the chance to work with other teachers and students who aren't always in their classroom," said Bandstra. "They know it is the time of the day to work hard to develop skills that will help them grow as students."
The Diocese of Des Moines Catholic Schools aim to ensure all students have mastered, at a minimum, grade-level expectations. WIN time has helped improve student outcomes even in the wake of the COVID-19 pandemic. For example, in school year 2020-2021, 31.2 percent of Diocese of Des Moines students in grades 2-5 demonstrated aggressive growth in their reading fluency, and 28.61 percent of students in grades 2-5 demonstrated aggressive growth in math comprehension as measured by the FASTBridge assessments. Aggressive growth is a score increase from fall to spring greater than 75 percent or more of their peers nationally.
"No matter how you do it, each student deserves interventions when they are struggling with a concept," said Beneke. "If you want something formally in place to ensure that it happens and allows teachers to succeed in the endeavor, WIN time is a great solution."